Professional Pet Sitter Spring TX and Nearby Areas!
Hi, my name is Crystal Stemberger.  Welcome to Crystal's Cozy Care Pet Sitting!  If you need dependable professionals that are also avid animal lovers in or around Spring, TX than you are in the right spot!  My husband, Len, and I are insured, bonded, reliable, and pet lovers to the core.  Please contact us today!
I started Crystal's Cozy Care Pet Sitting out of Spring, TX in late February 2014 and have had more than 200 furry and scaly clients since then!  With the help of my husband, we cover dozens of jobs each week.  We will take loving care of your pets and send you pictures and updates while you are away.
Services
We provide pet sitting visits, overnights/house sitting, dog walking, and poop pick up.  We can transport your pups to and from vet appointments and groomers as well.
– We will make a specific plan together.
– This plan will include all of the basics plus walking/exercising, lots of one-on-one time, and handling medications if necessary.
– We can also put out your trash, gather your mail, bring in the newspapers, turn on or off your lights, etc. as requested.
– We will send you updates and a picture or two during or after each visit, so you always know your little ones are doing well.
Experience
– I am the owner and the main operator of Crystal's Cozy Care Pet Sitting
– I've taken care of more than 200 pets professionally since February 2014 and have made literally thousands of visits.
– Have been pet sitting non-commercially since 2002.
– My husband and I are foster parents for SMART Animal Rescue
– I volunteered from 2006-2007 with the Houston SPCA.
– We fostered for Pughearts: Houston Pug Rescue from 2008-2009.
– It's not just dogs and cats.  We've watched reptiles, birds, small mammals, and fish.
Visits and Rates
Our rates would depend on the job.  We'd work out all of the details in advance on the phone and during my initial intro to your pets.
This intro/pre-meet is free.  Please only schedule a pre-meet if you are 99% sure about hiring us.  This meeting is to verify that your pets are good with us and we are indeed not nuts in a bad way.  It makes for a sad, expensive drive home if you just call us out to talk and move on to other applicants.  Feel free to ask me anything you want on the phone or in email in advance to ensure that we're the pet sitters for you.
Our general rates:
$20-$25 per basic visit (about 30 minutes) depending on your location and what's involved.
For example, if you have more than 2 pets, it will most likely be $5 more per pet depending on how many more.  It would also be more if you are located further away than most of our other clients.
Holidays and last minute jobs with less than 72 hours notice cost more as well – generally a $10 per visit fee.
Please just call me to get specific quotes.  I promise we will impress you.
I do accept cash, checks in advance, or any of the major credit cards (via Square or Paypal):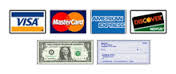 The payment will be due in advance, but that can mean leaving the cash on the counter for us before you leave.
References and Insurance
You can click on the "References & Testimonials" tab for recent references and testimonials.  We are also fully insured and bonded through Pet Sitters Associates, LLC.
Please email, call, or text me anytime with questions or to schedule a meeting.
Thanks!
Crystal Stemberger
(832) 724-3382
crystalscozycare *at* gmail *dot* com
We will be out of town October 5-10, 2016 and November 15-20, 2016.  Please send a text or leave a voicemail with your full name, general location, and what dates and visits that you will need covered.  I will be replying to everyone whenever we have service.
Last updated September 2016.  🙂